Technically, this list item is a subset of "Six Pack of Peaks", but it's significant in its extremity. It's a subset because San Jacinto is one of the summits on the Six-Pack list, but it's its own chapter because of the duration and extreme elevation that requires dedicated training to achieve.
It started as these things often do. I was scrolling through a socal hiking subreddit in late August (2021) and saw this:
Many, many people answered the question with "Cactus to Cloud", something I'd never heard of. Turns out, there's a hike that goes from Palm Springs up to San Jacinto Mountain. It's a 21 mile hike that features over a 10,000 foot elevation gain. It has the greatest elevation gain of any trail in the United States, according to Alltrails. It is number 5 on Backpacker Magazine's "America's Hardest Dayhikes". Giving it some perspective, "The trek to San Jacinto's 10,804-foot, boulder-strewn crown is only 800 vertical feet shorter than the climb from Everest basecamp to summit". Because the temperatures in Palm Springs gets so hot and the peak can get super cold, there are many times of the year when this hike shouldn't be taken on. The Summer is just such a time. Plus, I'm super out of shape. So I'm targeting mid October. That will give me 7 weeks to try to get into shape and get some practice hikes in. Finger's crossed.
To see my exercise/eating routine, check out this page, where I detail the routines and update my weekly schedule.
What I really need to start doing is practicing hiking with my backpack. I've read that, due to the lack of water resources on the Skyline Trail, it's advisable to carry ~6 liters of water. That's a heavy pack. I need to start adding hikes into my routine because hiking with weight is one thing, but doing it for 13-16 hours is something quite different.
In terms of preparation, I never was able to get in a practice hike at elevation. For one thing, all National Forests in the state were closed due to extreme fire danger. This meant most of the larger hikes in the area were not available. I had grand plans to hit some more of the "Six Pack of Peaks" list item while simultaneously getting my lungs better prepared for the upper part of the C2C climb. One weekend I drove up to White Mountain, a 5-ish hour drive north to Big Pine, CA, then 40 minutes or so of dirt roads to get to the state's "easiest 14ker". I was watching the forecast and knew a storm would be coming in the following evening. It was a gamble, but I decided to try to make it before the weather turned inclement. How inclement? Predicted windchill at the summit of -24. Made the drive, setup camp. Watched as a half dozen people came down off the mountain before sunset. Even walked a mile up to see what the trail was like (it's a dirt road for vehicles to access the science stations up there). At about an hour after sunset, with no other cars in the trailhead area, I climbed into my sleeping bag and felt the barometric pressure drop.Winds started picking up. It was clear that the storm was getting closer and faster than predicted before I left. Made the decision to pack-up and head home before the dirt road out became a river. The truck told me it was already 30F outside (had been predicted to be closer to 45 in the forecast). It would be 1:30am by the time I got home, but sliding into the warm sheets of bed made it all worthwhile.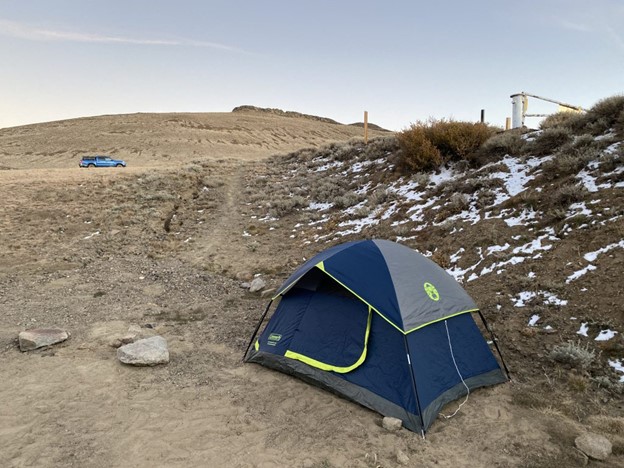 So much for training at altitude. I should also mention that I was light headed when I went for the short walk up there. Granted, the elevation at the trailhead of White Mountain is higher than San Jacinto's peak, but still. Looks like I would have to try the Cactus to Clouds with no hiking at elevation practice.
I had read that October is the perfect month to try C2C as the temperatures are less deadly. I also read that making the hike during a full moon is better for visibility of the pre-dawn portion of the hike. I did some research and settled on October 22nd. Two days after the full moon, when it would still be bright AND would be up until past dawn. It was a Friday, so I'd need to take a couple days off work, but this way I could drive out to PS, check into the hotel and get sleep the night before. Sylvia, Ruby, and Biz would drive out after school Friday evening and we could make a mini vacation out of it.
Friday, October 22nd 2021 – I woke at three am. Was staying at the Hyatt in Palm Springs (dog friendly!), with a mountain view balcony looking out directly at the start of the Skyline Trail. I had walked the beginning of the trail in the evening to acclimate myself to it a little. I had read that it can be difficult to find the trail in the dark. Volunteers have painted white dots on the rocks to denote the way, but even still, it can be a labyrinthine experience while navigating via headlamp.
I hit the start of the trail right around 4:10am and saw no one until I reached the picnic tables at the top of the first foothill. A couple suddenly appeared behind me, so I let them pass as I didn't want to feel pressured to keep a particular pace. About ten minutes later, I passed them as they clearly followed the wrong path, and then they passed me again later as I was resting, then I passed them as they were resting… It kind of goes that way. The funny thing is that they arrived at the peak within ten minutes of me, meaning we averaged nearly the exact same pace.
The first peculiar thing I came across was a little exercise enclave at the top of the first foothill. I came across it while getting slightly off trail. Someone gets in a great view while getting their reps in!
The weather conditions could not have been better. Never got too hot or too cold. I had packed a down jacket and windbreaker, but didn't need either. I had also packed like 3,700 calories of various trail mixes, protein bars, and energy gels. Of which I ate maybe 700 calories of. Drank ~4.5L of the ~5.5L water I brought. Just after the sun came up, I was passed by two guys within two minutes of one another. One was a hiker moving quickly, but the second was a full runner. Running that path is a level of exercise I will never know. Eventually I stopped for a food break a few hours in and that's where the couple from the beginning passed me again. I also met a kid from Palmdale there who started nearly two hours after me, which is crazy because it meant he was twice as fast as my pace. Continuing along the trail, it was very difficult at times to figure-out where where actual path was. I was consulting my GPS more than I was using my walking poles and even then I'd occasionally be walking what looked like the path only to look down at the GPS and not see the purple line (the denoted path) anywhere on screen. Everyone I spoke to had been turned around more than once along the trail.

I had been reading as many people's accounts of the trail as I could find and many people mentioned two particular aspects of the trail: 1) at ~8k elevation, the trail gets very steep. At points it becomes a 50% grade. 2) after that steep section, you reach a flat valley where the ranger station is and you need to fill-out a day pass to continue up to the summit. Several people described this point as being tough to mentally prepare for. With that in mind, I was feeling shockingly ok and decided to not stop and rest here. That said, the five miles from the ranger station to the summit was far from a cakewalk. There were a few sections of elevation change that took my breath away. As the air thinned getting close to the summit, I'll admit I was struggling. For the last mile or so, I was following an older couple and appreciated their pace. I also met a couple older women on their way down from the summit. They had left at 10pm the night before and were so incredibly supportive, asking if I needed any snacks and we congratulated each other over and over. The last few hundred feet is a scrabble up boulders, which was kind of a nice change of pace (were it not for the elevation sapping my energy). The couple I had been following offered to take my picture and I took theirs. As my portrait was being taken, the Palmdale kid showed up. So I took his picture with the sign. Then the couple who I let pass at the picnic tables showed up and I took their picture. For a few minutes there, I was the official photographer of the summit.
The view from the summit was breathtaking. Seeing the windmill farm as little dots down below, the lakes in the distance, the other tall peaks miles and miles away… Incredible.
The return hike from the summit to the tram station is a little over 5 miles and took another couple hours, but it went by fast enough. I had originally bought a tram ticket for 4pm, but arrived closer to 5. Still, the guy letting people on didn't even look at the ticket. Once down, I discovered I had no reception, so I had to walk a couple miles down the road to contact Uber. No rest for the wicked. Got back to the hotel by ~6:20 and had just enough time to take a shower before my family arrived and the chaos began.