My wife and daughter talked me into this one. They occasionally go out and return with colorful nails and/or toes. I had recently started painting my own nails, both as an element of self-expression and as a confidence building device. That is to say, guys with painted nails aren't the norm, so certain people apply meanings when there are none. The confidence comes in that moment where I can either hide my hands and hope people don't notice, or suck it up and be confidant in who I am and rock it without apology. That said, painting ones own nails is a far cry from someone else doing it for you. Sounds weird, frankly.
List item: Get a manicure and pedicure
Things worked-out during a recent downtown LA staycation where Sylvia and I were able to walk-in to a nail salon, Polished.
The staff were all amazing. The woman who was doing the pedicure didn't speak much English, but she was a master. I was afraid I'd sit uncomfortably, possibly in tickle fits, but more like a massage, it was an overwhelmingly relaxing situation. I get why people do it. There was one moment where she was massaging my feet (after the callus grinding) and I think I moaned, making some half-closed eye contact with her that was borderline sensual. Not to say she felt the same way, but at that instant I developed an admiring crush. Not in a weird way, right? Totally not. What can I say, I've never had a foot massage and it was a little overwhelming.
Sylvia had told me that if you get the pedicure and the manicure you got to sit in the massaging chairs, which was totally worth it. Unfortunately, when it came down to manicure time, the massaging chair was paused so the delicate work of painting nails could go smoothly. The lady doing my nails was super engaging and made the experience more fun. Yes, I sound like an advertisement for the joint. I guess I kind of am. The lady doing my nails talked me into getting gels largely based on the drying time- I could either spend the next hour with my hands in the air like a recently scrubbed surgeon, or stick my fingers in a little UV oven and have them dried instantly. Not really a choice!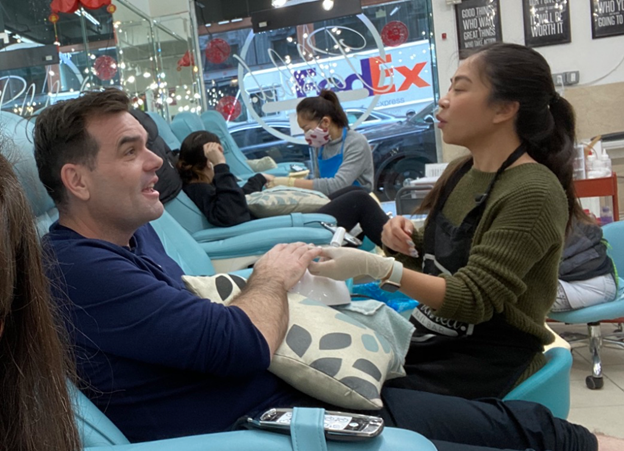 When it came time to pick polish color, I panicked after seeing the wall of options. Went with Black and White. The most generic and least inspired option possible. I blame the foot massage. Sylvia suggested that if I got alternating fingers, they'd look like piano keys. Fair point. I didn't want to look like some large sit-down musical instrument. Went with one hand black and one hand white. Asymmetry is so hot. If I go back, I'll choose colors ahead of time, before any foot rubbing.
The experience of the mani/pedi was a 10/10. The staff was lovely and I felt pampered in all the right ways. Is what my Yelp review might say. I would do it again, for sure.
Difficulty: Expensive
Lessons learned:
I don't know… money can buy pampering?