My friend Laura suggested this one. She suggested a lot of interesting things to visit because visiting interesting things is a hobby of hers. She could go on forever giving great ideas for things to add to my 50 Things list. Having dinner with her a few years ago and she added half a dozen ideas.
La Casa del Zorro (the house of the fox) is 3.5 hour drive to Borrego Springs in the Anza-Borrego state park, on the western edge of the Sonoran Desert. It being A) the end of Summer and B) our 20th wedding anniversary, I decided to make a reservation for a short visit. Why not visit one of the hottest places in the state during the height of Summer heat? How about we bring a dog designed for extreme cold while we're at it? Yeah, I'm not good with forethought.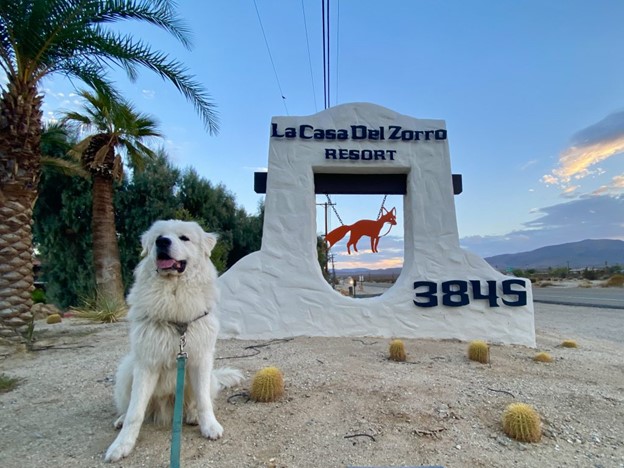 Let me state right now that this entry isn't meant to be any sort of review of the resort. This isn't Yelp. However, due to the specific nature of the entry, I can't avoid some critique. With that in mind, I'll cut to the chance and say that I would absolutely go back and recommend it to friends. But I'll also mention the things that could have been better. Mind you, running a resort in a brutally hot part of the world during a particularly hot time of year and doing it during a global pandemic would be no picnic, so I feel like a heel for any criticisms.
We opted for a casita, a standalone small house. The resort is pet friendly, so we figured not having neighbors would be less stressful. We also picked one with a pool, which was well used throughout the stay.
Day one was spent driving, then waiting an hour in the lobby (we arrived half an hour early for check-in and decided the air conditioned lobby would be more comfortable than waiting in the car in 107F heat, then were delayed another half an hour due to house keeping working on the casita). Room service isn't happening during covid, so we ordered dinner and drinks then walked over to pick it up. The food (and drinks) were good. More swimming was had, then I walked the dog in the still nearly 100F heat of darkness. The wifi signal was strong enough that we watched "Jungle Cruise" on the appletv we brought (non-password protected wifi saves a lot of time dealing with ISPs to get streaming devices whitelisted- not a great way to spend vacation!). One criticism of the place is the small kitchen facilities of the casitas. Mostly because Mr. Business has crazy food allergies, it would have been nice to have a larger refrigerator and freezer to keep his raw meat diet cool.
The grounds are stunning. Plenty to do (horse shoes, bocci, croquet, shuffle board, exercise gym, tennis, pickleball, lap pool, exercise pool) if you can withstand the heat. There is a one-mile jogging loop that I had every intention of using, but never was able to get up early enough to do it while it was in the high-80s/low-90s. Have I mentioned that the desert is hot? One extremely cool thing about Borrego Springs is that it is a designated as a " International Dark Sky Community", so there is very little light pollution. I took a swim at night and marveled at the amount of stars. The Milky Way could be seen clearly. The resort has a "stargazing theater" which looks like it used to be an archery target range. It's merely an open area surrounded by a high fence and weird dirt mound in the middle. I suppose people could bring blankets to lay out, but considering the number of red ant mounds in the area, I didn't risk it… There is potential with this area, but it is currently less than well executed.
Day two: Woke to get more food from the restaurant. As it turned-out, this was the only day the kitchen was open to order breakfast during our stay. All the other days were complimentary 'continental' breakfast spread, which was ok, but then have a mean cornflake crusted french toast! After breakfast, we took a driving tour of Borrego Springs, including a visit out to the famous metal sculptures.
Hit-up Central Market for bottled water and eggs for the dog, then back to the casita for more swimming and exploration of the grounds. During a mid-day swim with Ruby, I walked into the pool with my phone in my swimsuit pocket. The supposedly waterproof iphone 11 behaved normally at first, then started randomly doing thing, including dialing 911! I was unable to use the off button or touch screen to cancel the call, so talked to a 911 operator and tried to explain what had happened at the exact moment Biz started barking wildly for no declarable reason. "Nothing is wrong" probably sounded more than a little disingenuous while a dog screamed in the background. Anyway, spent way too much time trying to solve the phone problem and realizing how deeply dependent we are to the damn things (for example, in order to make a reservation at an apple store to fix a broken phone, you have to verify your identity on said phone. Typical Apple…) Finished the day with some board games (Rummikub and Quixx) before calling it a night. This is one area where the resort could spend some funds to make the accommodations more comfortable: crickets. There were so many crickets inside the house! The ceiling boards have gaps that allow them to hang-out and sing and the Yucca house has a chimney that included a large gap where dozens of crickets could be seen (and heard). Sealing those gaps wouldn't be too much of a challenge. Easy for me to say. That night, we were awoken by the sound of the resort's namesake- red foxes were squealing nearby and Biz wasn't having it, moving from room to room barking like a nut. It was cool hearing the desert wildlife.
Day 3: Having never been to the Salton Sea and being so close, we packed into the car and headed out to see this debilitated resort town / environmental disaster. Ended-up driving all the way around the sea, stopping at famous Bombay Beach and the slightly less famous 'Carcass Beach'. The later of which took off roading a bit, luckily we didn't get stuck. Bombay Beach, like most things in southern California, is very similar to its GTAV representation. Except the stench is palpable.
After returning to the casita, it was a lazy day of recovery from the long drive. Some more swimming and ordering from a local spot with good reviews, Carlees. Fat and sassy, I took Biz for a late night walk and received a "Hazardous Weather Warning" about a sandstorm moving through the area. It warned of zero visibility. I surveyed the sky and saw no wind. Not more than half an hour after getting back, however, winds picked-up and before long, we were in the middle of a full blown thunderstorm- lightning illuminating the skies nearly continuously for hours. Winds were blowing everything around. Flash flood warnings erupted on our phones. Rain started pounding outside. We turned off all the lights and opened all the blinds, sitting in the dark and watching nature's spectacle. It was incredible. Sleep came quickly while the sounds of rain on the roof acted as drug.
Final day: Each day of our stay, Sylvia had woken predawn and taken Biz for a walk to see the sunrise. Since it was our last day (and our 20th anniversary), I'd asked her to wake me so I could join them. It was worth the missing rest- truly a gorgeous sunrise. Very humid after the storm and tree debris lay everywhere. A couple trees had large branches crossing streets in the resort and our pool was filled with dirt and plant parts. Guess there would be no swimming.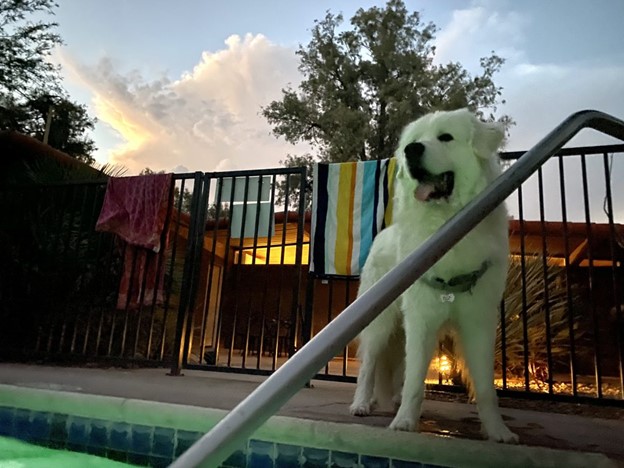 Feeling homesick and wanting to get the long drive back over with, we packed up and hit the road. Many good memories of La Casa del Zorro and the surrounding area. Maybe we'll come back sometime. Possibly with another family so we can rent the larger casita that has a full kitchen.