I took a Film Noir class in college and we watched a couple films (Criss Cross and Kiss Me Deadly) that had been shot in the Bunker Hill area of downtown Los Angeles. The teacher of the class told us about Bunker Hill while discussing the films, about how it was once a bustling part of the emerging city, then it became derelict and was eventually razed. That's an oversimplification, of course, but I was fascinated and immediately went to the library to find out more (weird to think that I was in college pre-internet). The idea that downtown LA used to have a big hill at its heart (bigger than it currently does, anyway) and that it was terraformed as recently as the late 60's seemed too crazy to be believed.
Around the time I was graduating (circa 1996), the restored and relocated Angel's Flight funicular re-opened. It was built in 1901, but was relocated as part of the Bunker Hill "urban renewal project". You can see parts of this in this This 1969 TV show "The Outsider".
The "new" (since 1996) location of Angel's Flight is across the street from the Grand Central market, and despite spending time down there many, many times for jury duty (the market is the best place for jury duty lunch options, but also, seriously, why do I get called for jury duty so damn often), I'd never been there when the funicular was running and/or crowded with visiting classroom or tourists. Or classroom tourists. I'd walked up the stairs that ran parallel with the track several times, carrying lunch items purchased from DTLA Cheese. Damn it, the funicular has eluded me for all these years.
List item: Ride the Bunker Hill Funicular
Over 20 years later, the stars aligned and Sylvia and I found ourselves stepping aboard the funicular (the Olivet car) for the first time.
The ride is short and costs a dollar, but it's utilitarian. There were three other rides in the car with us, but we were the only tourists. The others must work in the area and would rather spend a buck to avoid that long staircase.
I can only remember riding three or four other funiculars in my life. One that climbs the steep divide between Buda and Pest in the city of Budapest. Another, a long, sleek modern, rollercoaster-like version that takes tourists deep into the bowels of the Blue Mountains outside Sydney, Australia. And the Cape Fox Hill Tram in Ketchikan, Alaska. (according to this wikipedia list of funiculars!, there is also one at Six Flags Magic Mountain that I must have ridden at some point, but really can't remember…) There are a mix of train/trolly and elevator, something so specific to their surroundings that they become a vital artery for people moving.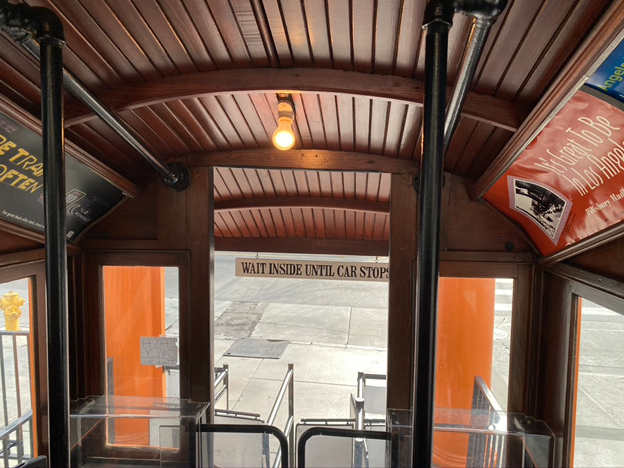 It is not the most life-impacting item on my list, but one of civic pride. Los Angeles is my adoptive home, but I've long since lived here longer than anywhere else and my sense of place has shifted from "where I grew up" to where I call home. Los Angeles, the most of everything. Angel's Flight is a time capsule that represents a young (by US city standards), eager to change and adapt. Our sense of history is complicated. LA straddles the old and new in a way that feels less vibrant that the futurist feel of cities like Tokyo, or the ever growing approach of Shanghai. Nor do we have the depth of history as you find in Europe or parts of China, where "old" is measured in thousands of years rather than tens (many of our major thoroughfares were still dirt roads 100-150 years ago). It's a refreshing reminder that Los Angeles is still figuring itself out, a young, still vital city filled with possibility. It was a short ride, but one that was a long time coming.
Difficulty: Actually riding? "Just sit there" easy. Finding a time when the damn thing was operating and not over crowded? Stupidly challenging.
Lessons learned:
Exploration can happen in your backyard – Relatively speaking. I don't live downtown, but it's not far. I consider Los Angeles as my hometown. Which is weird to write out loud. I once read that you should experience your hometown as a tourist at least once, and I couldn't agree more.
A backstory can elevate even simple activities – The thing is, it would be really easy to see the funicular as just a peculiar elevator. Taking the time to do a little research and reading about the places you go can deepen your appreciation of the place. Reading is for nerds, I know.
Memorable experiences can come in small packages – Not everything on your list needs to take a long time, cost a lot, or require training. Sometimes sitting on your ass while the little room you are sitting in travels up a hill is all you need.