One of the really irritating habits of mine is that wherever I go, I'll look at the tallest nearby hill, mountain, or other prominence and claim, "if I lived around here, I'd climb that". It constant and tiresome, just ask my wife. There's just something about seeing something that stands above everything else that make me wonder what it's like up there. It's an especially strong draw when it seems impossibly far away and high up. In tat way, hiking peaks is an execution of this impulse. It was one of the most striking things about my hike of Mount Langley- I could see the mountain for miles and it was just so impossibly far away. From certain vantage points, you could see the peak clearly and be separated by vast spaces and height. Yet, after a few hours, there you are.
I mentioned this on my update to the Langley article, but its worth added here as well. On my decent from Langley, after a very long day that included making the summit, returning to pack up my campsite, and making the long trek back, I passed an old man. In my mind, he was like John Muir himself, but in reality he was just a older hiker. Someone healthier than most of his peers. He asked if I had made the summit and I confirmed I had and mentioned it was my first. His response was "the first of many, you'll see" That wilderness guru was right. Especially during the covid lock down, where the need to get outside and to do something socially distant, the hiking bug struck. In fact, I had summited Mt. Baldy (aka Mount San Antonio) before even hearing about the SoCal Six-Pack of Peaks.
The basic idea of the Six-Pack Challenge is to select 6 of the 11 iconic peaks in southern California and then go out and climb them. That's it. Below is the list of peaks from the 2021 list (elevation in feet):
Sitton Peak (3,273′)
Santiago Peak (5,689′)
Mount Wilson (5,713′)
Strawberry Peak (6,167′)
Ontario Peak (8,696′)
Sawmill Mountain (8,822′)
Cucamonga Peak (8,862′)
Mount Baden-Powell (9,407′)
Mount San Antonio/"Mt. Baldy" (10,068′)
Mount San Jacinto (10,834′)
San Gorgonio (11,503′)
Thursday, June 3rd 2021: Mt. Baldy
Since the hiking bug bit, Mt. Baldy has been on my list. First of all because I mistakenly thought it was the highest summit in the southern California area (it's not, both San Jacinto and San Gorgonio are higher), but secondly because it's omnipresent in the backdrop of LA. It can be seen from many places around the county and I have a chronic case of looking at the highest peaks wherever I go and saying, "if I lived here, I'd totally climb that". It's obnoxious, admittedly.
After finishing a multi-year project at work, I took a week off to decompress. I had planned to take on the hike up Baldy on that Monday, but un unexpected snowstorm dashed those hopes. While the hike is not overly strenuous, but there is a section, fittingly called "Devil's Backbone", where the path traverses across a narrow ridge with steep drops on both sides. In the summertime, it's a wide path and nothing to be afraid of, but in slippery conditions, several people a year die from falls.
Naturally, I delayed my trip. Eventually I took a day off work and attempted the summit. I got away late, was planning on being there at daybreak, but didn't start the hike until 8am. Couldn't help thinking about Gerald "Myles" Purdue, a hiker who was tragically shot a few months back. Was someone targeting hikers? Was this random? Was there an argument with awful people? It's a dark cloud of uncertainty.
There are a couple sections where it gets really steep and my lack of physical conditioning really showed. Just after the ski lodge, I hit a hill that proved the value of hiking poles. Had to take a break. It was around that point that a guy came running down the other way. He'd clearly already summited and was on the way down, barely breathing hard. Devil's Backbone is stunning, with views of both the LA basin and the i15 to the north (Cajon Junction).
Aside from stunning views, the hike was largely uneventful. Made the summit in around 3 and a half hours.
The way down was arduous and I'm glad I decided to to the Devil's Backbone section as the ascent portion of the loop. Ran out of water with an hour or so left, but the thought of stopping by the Mt. Baldy Lodge for a burger and a Coke kept me moving. Soon enough I found myself there and enjoying that combo (plus a beer!). It was one of the best meals in my life.
Thursday, July 15th 2021: Sawmill Mountain
After a fair bit of confusion finding this mountain (there's a different Sawmill mountain on Alltrails that looks like a barren fire road) I came across the "3-2-1 Challenge". It's a 10 mile out and back trail that summits three peaks that stand over 8,500 feet: Mt. Pinos, the highest peak in Kern County, Sawmill, the highest peak in Ventura County, and Mt. Grouse, the "well, you've come this far, why not summit another?" of the group.
It's a pleasant enough hike, mostly over fire roads to Mt. Pinos, which is marked with a survey marker next to a radio tower and solar panels.
The path between Pinos and Sawmill is where it gets really stunning. The views open up before the trail descends via switchbacks under the shade of trees, ornamental rock formations, and prickly shrub brush that lines the way. Unlike Pinos, there is actually a monument at the top of Sawmill.
I read comments from several hikers who turned back after Sawmill as Grouse adds another couple miles to the hike and while the elevation gains come with ample downhill respites, it's tempting to just say, "screw it" at this point. Since I was probably never coming back, I soldiered on. The peak of Mt. Grouse has a trail that ends in the weird U-shape and takes hikers past a point that is clearly higher than the designated peak. People have stacked rocks at this point, adding to the confusion. Still, the peak is marked a little further on in a pyre-like bundle. Not sure if I'm supposed to pose next to it or burn a witch.
I didn't encounter many other hikers and made the journey in 4 hours. It was pleasant and only mildly strenuous. I did feel the effects of altitude in the first hour or so, but had taken some Advil and stopped to eat a GU gels which leveled things out. Nice day.
Friday, October 22nd 2021 – San Jacinto
See "Cactus to Clouds" article.
Sunday, November 14th 2021 – Cucamonga Peak
Somewhat (by my standards) spur of the moment, I made the decision to go for Cucamonga the night before. The trailhead is around an hour from my house and I'd read that the parking lot is often full by 6am on weekends. That said, there are limits to my ability to function at early hours, so I decided to get up at 5am and get ready in a leisurely fashion- I'd roll the dice on parking. True to everything people had said, the parking lot was full by the time I got up there. Luckily there is a section of asphalt between the lot and the road that two cars had already parked on, so I joined in and by the time I was packed up and ready to start the hike, those spots were also full!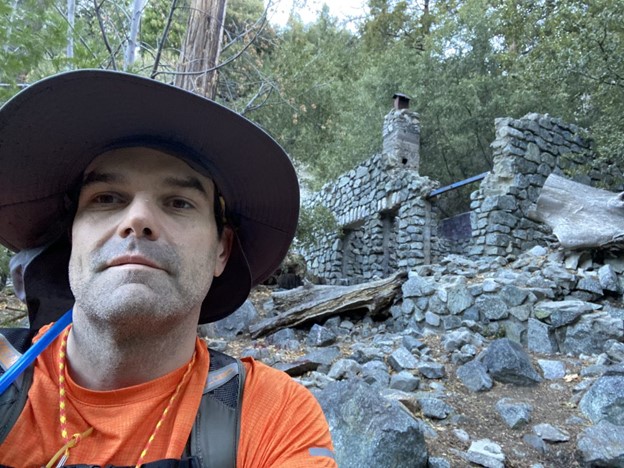 The Cucamonga trail from trailhead to summit and back is around 13 miles. Wish I'd done a tad more research because, from Icehouse Canyon, hikers can also hit Ontario Mountain, another on the list of Six-Pack Challenge summits. From the split, Ontario was only 2.8 miles, but I was fairly tired and didn't realize how much time I had until sundown. Would have added a couple hours to an already tiring day. Still, would have been nice to check that one off the list without having to re-traverse most of the same trail again.
One weird thing about the peak is that "the rock" that everyone poses on is not the highest point on the peak. I took my obligatory selfie with one of the the signs (below), but didn't see "the rock" anywhere (after some exploring, I realized that I was standing on it, it's just not as dramatic an overhang unless seen from a particular angle). What I did see was that there is a higher section of peak to the East. So I hiked up there and there's not much there- except the view of yet another higher point to the north. So I went up there and there is even less going on up there.
When I finally located "the rock", there were a couple sitting there, casually eating lunch and reading. I almost left, but thought, "damn it, I'll never get back up here again and will kick myself if I don't at least try", so I asked the two if they could move so I could get a picture at the summit. They were nice enough and moved without attitude, but seriously, I shouldn't have to ask. Don't block summit photo ops, people! Anyway, now that the couple were out of the way, I needed someone to take my pic. Luckily, there was a dad and young daughter who I'd passed on the way up who were nearby eating lunch. The daughter was gracious enough to snap my picture.
The hike took 3 and a half hours to get to the summit (one snack break) and two hours to get down. The views were the reward.
Wednesday, November 17th 2021 – Mt. Wilson
After the Cucamonga Peak ascent, I was hit by a desire to hit another summit before the Thanksgiving break. Checking the weather forecasts and my work schedule, things weren't looking good. It was basically now or never. So I took the day off to hike up to Mt. Wilson. Home of the observatory and all the weather cameras on the local news. I didn't know that much about Mt. Wilson, had never been interested in joining the parking lot of Angelenos as they attempt to peer through the telescopes on the nights of open house. That said, this trail has some of the most colorful history behind it and I was glad to have done research before going as it greatly increased my appreciation of not just the people who have used it in time past, but the wonderful volunteers who continue to maintain and improve the trail now.
The history of this particular trail is fascinating. It was forged over the centuries by the Tongva indigenous people as one of the single-file trails that lined the local mountains, even leading to the high desert to the north. When Europeans arrived, much of the land now known as Pasadena, San Marino, and Sierra Madre were purchased by a fur trapper turned politician (eventually the second elected mayor of Los Angeles) born in Tennessee named Benjamin Davis Wilson. Among other things, he was General Patton's grandfather. Wilson had the trail expanded in an effort to try to extract timber (an ultimately impractical endeavor). This is the guy the mountain is named for.
This is also the trail that a volunteer, Judge Eaton, worked with a team to drag the first (13″ and 3,700 lbs!) telescope to the summit. It was a project of Harvard University Observatory. It took them a month in 1889. I could not get this effort out of my mind while making the trek. There are sections that are tight for a single hiker to navigate and it boggles my mind that men and horses were able to lug such massively awkward and heavy equipment up these slopes. More on the establishment of the Mt. Wilson Observatory can be found here.
The "half way" point along the trail, called "Orchard Camp" due to an early homesteader who took over Wilson's abandoned wooden shack and planted, "a small orchard of apple, pear, cherry and plum trees. On my way up, I spoke with a woman trail runner who arrived around the same time I did. She is a regular runner up to this spot when she's training. I was exhausted from walking here. On my way down, I was passed by a young guy who had run to the summit (we crossed paths on my way down/his way up) he told me that on his way up, he stopped at Orchard Camp and heard rustling in the surrounding brush. Not far from his location strolled a mother and cub Brown bears.
The Old Wilson Trail is really gorgeous. I was listening to podcasts in one ear for much of the morning, but as I progressed further into the woods, I turned off the sounds so I could appreciate the wind in the trees and the creek down below. Aside from the cloud cover that blanketed the LA basin, limiting the views, it was a perfect day. And honestly, not being able to see the urban sprawl was a net benefit.
One very cool aspect of the hike is that the radio and observatory towers are prominent on the summit and can be seen from multiple vantage points, giving an ever present landmark along the journey.
One downside to choosing a weekday to ascend is that the Cosmic Cafe was closed. I was looking forward to grabbing lunch, but in the off season they are closed on weekdays. I suppose a weekend drive up is in order.
Upon reaching the summit, a different history comes to light. The modern history of Mount Wilson is one of science, established by the remarkable George Ellery Hale. This trip has changed my mind about avoiding the throngs of Angelenos- I'm going to research any opportunity to visit the observatory and peer up at the stars.
The hike from the trailhead to the summit took three hours. I spent an hour wandering around, checking out the museum up there, and snacking while enjoying the views from the Cosmic Cafe.
Tuesday, November 23rd 2021 – Sitton Peak
The weather around here has been super warm lately, but up on the higher mountains, like San Gorgonio, it's been cold and reports of spotty snow. My next logical hike was going to be San Gorgonio, but I don't want to deal with cold weather gear. Instead of the highest mountain on the Six-Pack challenge, I went with the lowest one.
Sitton Peak is down in the San Mateo Canyon Wilderness portion of Cleveland National Forest. All the National Parks in southern California were closed for most of late Summer to help Smokey the Bear prevent forest fires. The drive to the trailhead was an hour and a half at 6am. Some commuter traffic before Lake Elsinore really slowed progress. From the parking lot, the trailhead was across a road that curved in a way that made it hectic- both directions curved away so you couldn't see the oncoming traffic, of which there was an unexpected amount.
The hike was largely linear and uneventful, surrounded by shrubs, making visibility limited. The elevation was easy up until the last half mile or so, when it gets suddenly "hands on thighs" steep for a bit. The peak itself had a lovely view, though a bit hazy.
It was nice to find both a couple nice summit signs and an actual survey marker. Some peaks have been anti-climactic when there's no location to say, "I made the summit!".
People count: Passed a group of 5-6 hikers on the way up, then crossed a solo hiker coming off the peak as I was getting there (ended up walking with her for a little bit, comparing summits), then passed 5 people on their way out while I was going back (on pair, all other solo). Crossing the road to the parking lot was a LOT safer on the way back.
The trail was so calm in terms of elevation climbing that I decided to run portions of it. Ultimately, it took longer to drive home than it did to do the entire hike.
So there we go. Sitton makes six. However, I'm hooked and will definitely hit all 11 on the list. Maybe after Winter.
Sunday, November 28th 2021 – Strawberry Peak
Thought I might be done with hiking for the year (or at least the month), but having felt lethargic after four days of no exercise for the Thanksgiving break and a lovely vacation up to Big Bear for said break, I felt motivated to get out and get my body moving. The problem is that today is Sunday, the last day of T-Day break. Otherwise known as "traffic nightmare" day. Most of the remaining "six-pack of peaks" summits require driving nearly two hours on a good day. Doing so today would be nonsensical. The only thing stopping me from trying Strawberry sooner was that I have read of a few people who have had their cars broken into at the parking lot at Red Box Picnic area. It's only half hour out of the city and nefarious individuals know the owners of cars parked here are going to be away for a few hours. Bastards.
Got an early start and left the house before sunup, arriving at the trailhead to see a stunning sun just over the horizon. Aside from other hikers and campers, the road up, highway 2, otherwise known as Angels Crest Highway is popular for three distinct, dangerously mixed, groups:
Speed enthusiasts– Groups of supped-up cars and motorcycles use the winding roads to test their mettle and traction of their tires. The first time I drove this road was when I bought my Subaru Impreza and wanted to see what its all-wheel drive brought to improved handling (it was fantastic, saving me from many a wipe-up over the years) and I came around a bend only to see a motorcycle on the extreme edge of his lane, his upper body leaning well into mine. I had to foreshorten my trajectory to avoid hitting him. As I passed, I noticed it was a motorcycle policeman. It's a mixed bag up there, from glass-pack civics to high-end Porsche and all classes of vehicle in between. I pulled off to the side twice on the way up to let speedsters by.
Looky-Loos– The views of downtown and the LA basin are incredible along the highway, so the roads can become cluttered with people who are not paying attention to anything but the view and how to find the best shot for their selfies. Luckily for me, today was kind of hazy & the big travel day, mitigating the number of tourists to the area.
Bicyclists– The mountain road is also popular among bicyclists due to the elevation gain and location close to the urban center. You will find huffing and puffing cyclists up and down the hill. Occasionally you will see groups and not single-file, either.
I should also mention that there is no shoulder and most of it is two lane, so these groups intermingle in the worst possible way. Speeding around corners and then needing to evade either an SUV not paying attention and darting out of a pull-out, or a group of cyclists chugging away, only to find other racers coming down the hill in the other lane has lead to many an accident. Bringing the topic back to the hiking, you need to cross this road to reach the trailhead, so pay attention.
On the way up, I passed one soloist and then a group of three guys. When I caught up to the latter, they were busting out their hiking poles, preparing for an impossibly steep road that lay ahead. They were asking me if that was the trail. I had read that the trail gets quite steep for the last mile, but this was way too early. I check my GPS and it looked like the direction we needed to go. But after zooming in, there was a more reasonable trail up ahead, off to the left and obscured by a large bush. We were all relieved. The trail does have 3 or 4 "false peaks" that require climbing then descending, but my goal was to be out of breath for a few hours, so these suited me just fine (and each offered excellent views!).
Since I was looking for exercise more than a leisurely stroll, I jogged some of the way up. The trail has a lot of relatively flat places for the first few miles. There are some steep inclines up to the primary and false peaks, but I think I only needed to use my hands on one rocky area. I reached the summit quickly (just over an hour) with nothing memorable to break it up. Despite being somewhat hazy, the views from Strawberry Peak are stunning.
The way down I passed the four folks I saw earlier on the way up and then 6 more people (2 couples and 2 soloists, including a guy with a cute dog with heterochromia) along the path further down. I jogged most of the way down (after getting through the very steep portions, that is. I wasn't looking to break any bones today). Made for a very quick return (~45 minutes).
Strawberry Peak is named due to its resemblance of an upside down strawberry. I can't say I would have made that connection, but it beats other names of peaks in the area like Disappointment (elevation 5,968) and Deception (elevation 5,798). It was a lovely, if quick, hike. Plus, my car was not broken into. Win/win.
Saturday, December 4th 2021 – Mount Baden-Powell (and Hawkins, Throop, and Burnham) Peak
Getting to Crystal Lake Recreational area, where the trailhead for this hike begins, is another one of those (similar to Angels Crest Highway) A local LA mountain roads popular with bicyclists and auto enthusiasts. Luckily, early Saturday morning is not the peak driving time for either.
I'd never been up this canyon, thought the off ramp in Azuza is familiar as the place I've frequented while riding bikes up and down the San Gabriel River Trail that starts up in the foothills and leads all the way down to the ocean. On this particular day, fog had rolled into the LA basin, making the pre-dawn start of the drive feel eerie. However, I was soon above the fog as the drive makes quick elevation.
I definitely want to come back to the area during the summer to camp and check out the landmarks of the area including Crystal Lake, the cafe, and the amphitheater (though I've been reading many reviews of the campsite claiming loud and unruly people staying there. It does have that "a little too close to the city" feel…). Side note, I found a couple ghost stories related to the area. Family of four haunts amphitheater and occultists performed animal sacrifices. Fun stuff!
I hadn't really planned this hike, just knew that Baden-Powell was on the six-pack list and that I wanted to attempt the (longer) trail that originated on my side of the mountain range. I usually like to do a little research first, so I know what to look for, but this one was a little slap-dash. What is interesting is the number of peaks along the trail. I summited four, but there are five peaks above 8,000 feet.
The first I hit was Hawkins Peak, supposedly named after Nellie Hawkins a waitress at the Squirrel Inn that was (1901-1906) located along the road up to the area. There's nothing at the peak, or there wasn't when I got there. No sign, no survey marker, just piles of stones and gorgeous views.
The next summit was Throop Peak. This peak was slightly off the path I was on and I nearly missed the split in the path leading up. If you look the peak up on wikipedia, it's listed at 9,142, but the memorial plaque lists it as 9,138. This is often the case with peaks and probably has to do with improved technology in measuring.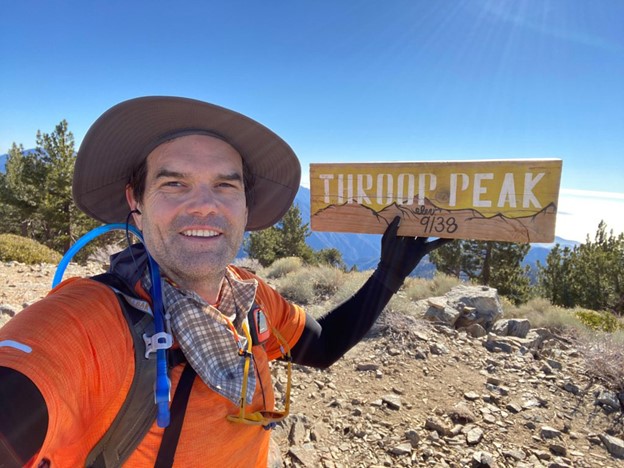 The peak is named after Amos Throop, the founder of the school that became CalTech.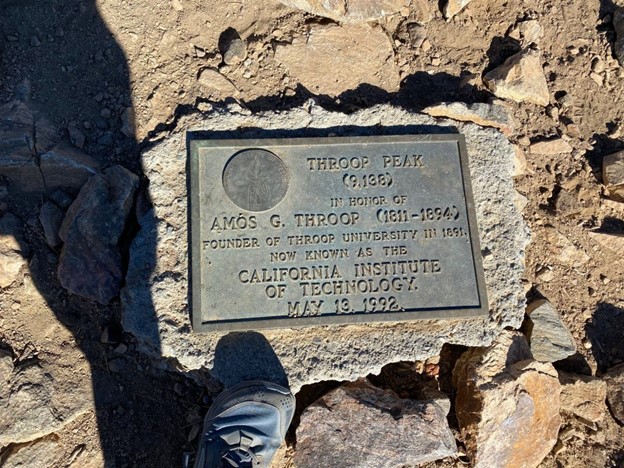 Next up is Mount Burnham, named after Frederick Russell Burnham, an American military scout who is reported to be one of the inspirations for the founding of the Boy Scouts by teaching "woodcraft", the skills needed to survive independently in the wilderness (later re-branded as "scoutcraft") to Robert Baden-Powell, founder to the Boy Scouts of America. More on him in a moment.
The trail to the headliner peak, Mount Baden-Powell, runs along a ridge line that is a portion of the Pacific Crest Trail. It features incredible views to the north into Central California's valley and south into the LA basin. Despite being a Saturday, I only encountered half a dozen fellow hikers along the way, but once on the peak of BP, that number tripled. The trail from the north is much more popular and I could hear the voices of loud talking hikers making their way up from that direction.
AS mentioned previously, the mountain is named after Robert Baden-Powell, the British military scout and founder of the worldwide Scouting movement that resulted in the creation of the Boy Scouts and Girl Scouts. Sitting atop the peak is a large monument plaque combination that features the scout's code on each cardinal-direction facing… face.
While I was on the peak and attempting to take a panorama, I noticed movement to the north. A glider was skimming the summit, below my line of sight. I called-out to a hiker near me as it was such a strange sight, I needed someone else to confirm it was really there. It was very surreal to be looking down on an aircraft in flight.
The final peak is Mount Islip, but it was .8 miles out of my way and I was losing light. Looking it up later, I see the peak has an old homestead cabin ruins. Maybe I'll go back to check that out at some point… As it was, it was a long day. 8 hours from trailhead and back.